Puncture Repair Services in Vermont
Our services:
Wheel alignment services
Tyre fitting services
Custom tyre suppliers
Tyre shop
Puncture repair services
Wheel balancing services
Our guarantees:
Affordable prices
Extensive range of tyres
Unparalleled customer service
Excellent workmanship
Serving:
Vermont
Mitcham
Doncaster
Your car deserves the best. Call us today!
Contact our experienced team. We'll take care of the rest!
Learn more about our wheel alignment and tyre fitting services by calling on (03) 9034 6010
ANP Wheels & Tyres is committed to ensuring that the collection and processing of data carried out by our
anpwheels.com.au
site complies with the General Data Protection Regulations (GDPR) and the Data Protection Act. To know and exercise your rights, particularly concerning the withdrawal of consent to the use of collected data, please consult our
privacy policy
ANP Wheels & Tyres provides timely and efficient puncture repair services in Vermont, VIC.
Puncture Repair Services
A tyre puncture is one of the most common problems encountered by drivers. For quick, efficient and high-quality puncture repairs, contact ANP WHEELS & TYRES.
Note that a puncture can only be repaired if the following criteria is met:
The puncture is found within the repairable zone
The puncture diameter or length doesn't exceed 6 mm
The tyre is of appropriate condition and age
The tyre has suitable tread depth
There is not more than one puncture within each quadrant of the tyre (W, Z and Y speed-rated tyres can be repaired a maximum of three times)
There is no secondary damage, such as: sidewall deterioration caused during under-inflated use or any splits or cuts to the inner liner produced by the puncturing object or bulging to either of the sidewalls.
The entry angle of the puncturing object allows for safe and proper seating of the stem and patch
We will perform a thorough tyre inspection to determine the severity of the problem and advise you accordingly.
Quick, efficient and high-quality puncture repairs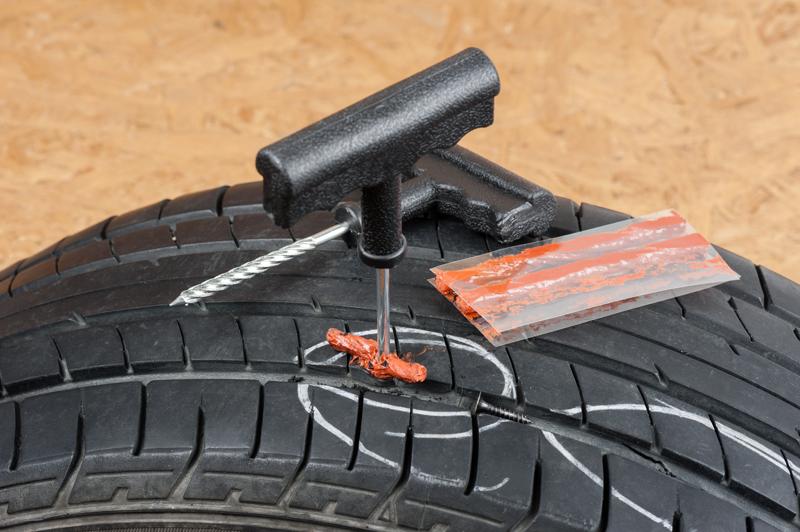 For more information about our wheel alignment and tyre fitting services, call us on
Puncture Repair Experts
Punctures can happen if you drive over sharp objects or nails, leading to slow or quick tyre deflation.  
With our puncture repair experts, you don't have to go through the hassle of driving with a punctured tyre or leaving your car in the garage for long. Our professional puncture repair services are quick, reliable and affordable to get you back on the road as soon as possible.
We'll inspect the punctured tyre to determine whether it can be repaired or needs to be replaced. Moreover, our puncture repair services comply with the relevant safety regulations to guarantee your satisfaction and peace of mind.
Bring your car in today!
Where every detail counts